<![if !vml]>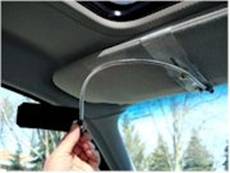 <![endif]>
Eulogy for a (Nearly) Dead Invention
TheLightVisor.com Erects a New Informational Web Site. The Site Discusses the Past History and Future Possibilities of the Light Visor Invention.
Hanover Park, IL (PR Web) March 16, 2005 -- It is often said that less than 2% of patented inventions are ever produced and sold. Probably less than 1% is a more accurate estimate. What kills these would-be "great ideas" can be one or more of any number of unforeseen factors. Consider the Light Visor, a now (nearly) dead invention. Patented in 1996, The Light Visor, a miniature auxiliary sun visor which attaches to a vehicle sun visor, was immediately welcomed by several major manufacturers. And then quickly dropped because of a belief that the newly arriving dual sun visor systems would hinder sales.
The original prototype Light Visor had utilized a two inch binder clip that attached to the hinge end of a vehicle sun visor. This awkward metal clip could not be utilized in a dual vehicle sun visor system. The inventor, accepting these rejections as a final statement, moved on to other things. Almost ten years later a sudden insight arrived. In early 2005, a new knob-tightened, sliding bracket was designed for the Light Visor that could unobstructively capture the top and bottom edges of a sun visor and so allow the device to be utilized in a dual sun visor system. The inventor then spent several months contacting various automotive accessory and other manufacturers asking them to review an informational web site explaining the new bracket system. And nothing came of it. Except that the inventor learned that if he had the "funds" to produce the device and provide it with product liability insurance, he would be cheerfully welcome at a number of catalog houses and automotive accessory web sites.
The majority of independent inventors have little or no funding available. One may thus reasonably predict that in a decade, when the Light Visor patent (5,564,771) expires, it will most likely be resurrected in one form or another by any number of off-shore companies and imported into the U.S. as a "new automotive accessory." In its new incarnations, the Light Visor may ultimately live a happy life of unending profit until there are no more vehicles being driven in the sunlight.
In tribute to the Light Visor, I offer the following general press release for the future manufacturers of these new incarnations:
Every day millions of people are on the road during a time when the sun is either rising or setting, or when the sun is shining in from an unwanted angle. Even in a vehicle equipped with dual sun visors, a driver or passenger often finds that the dual sun visors are awkward or impossible to use as light conditions change from front to side, and back again. Vehicle occupants often choose instead to raise an arm and position a hand between the incoming sunlight angle and their eyes. In lieu of raising one's arm and hand, consider the advantages of a new auxiliary shading device called the Light Visor.
In use, the Light Visor is a soft, flexible, miniature fabric shade that pivots about an end of a length of thin, stay-put flexible tubing, or "flextube." The opposite, mounting end of the flextube is then attached to a vehicle sun visor using a sliding, knob-tightened, mounting bracket. The mounting bracket captures the top and bottom edges of the vehicle's sun visor to provide a central pivot point for the "steering" of the shade on the opposite end of the flextube.
The Light Visor is thus designed to act in effect like a "miniature hand" which is swiftly and effectively moved from one shading position to another without ever having to take your eyes off the road. The miniature shade is used while horizontally positioned just above your line of sight. When not in use, the Light Visor stores flat and unobstructively against the underside of the sun visor, so that the sun visor can be used whenever you choose. The Light Visor flextube is so stable that it will not drop even on a rough road. The fabric shade's small size prevents it from blocking vision, and yet is more than sufficient to block out focal sunlight. No part of the device can injure the user or be captured by the steering wheel. The Light Visor simply and safely provides an effective shading means for focal sunlight from the front, top, or either side of your view.
Alternate models of the Light Visor which have a lighting circuit incorporated into their structure, may be made for various map, reading, and emergency lighting purposes.
The next time you are driving and need to raise your hand to block out the sun, remember the Light Visor as it rests peacefully waiting for its day of resurrection.
Or. Take a trip to its informational gravesite, www.thelightvisor.com, and consider what it might take to bring the Light Visor to life now. With the remaining ten year patent term for the Light Visor, a considerable number of units could be manufactured and distributed around the globe.
Contact Information:
Tom Chesters
www.thelightvisor.com
630-373-8862